Thank you for your interest in the used sailboats for sale by members and friends of Algoma Sailing Club. To inquire about a specific sailboat or discuss pricing and arrangements, we kindly request that you contact the sellers directly. For those seeking mooring and storage solutions for their newly acquired boat, please contact Algoma Sailing Club for availability prior to finalizing sale, since space may be limited.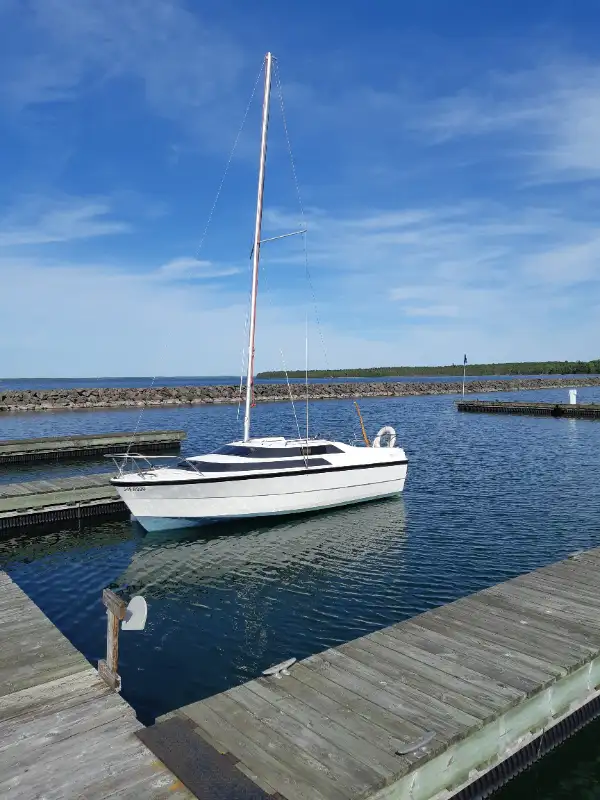 MacGregor 19 Sailboat for sale
Mac Gregor 19
https://www.kijiji.ca/v-sailboat/sault-ste-marie/macgregor-19-sailboat-for-sale/1671597195?fbclid=IwAR2itG8Zu4tHH0aCvTorHqF9H8NlAGR6Si1eBQSrbSqTL8BKZMqGozCGCuo

$7,000
19 foot MacGregor power sailboat with trailer and Yamaha 25 two-stroke outboard engine for sale. This boat is in good working condition and has unique features that make it perfect for exploring the area's great lakes and in-land lakes: – The MacGregor 19 can be operated as a sailboat and a power boat. For sailing, the water ballast system is filled and the swing keel goes down. Under power, the ballast is emptied and keel comes up. Transition from sailing to motoring can be done in minutes. – The swing keel also allows the boat to sit low on the trailer for easy trailering. Perfect for exploring different lakes and access points. – This boat can be launched and taken out of the water as easily as a fishing boat. – With the keel up, the boat can be beached on a sandy shore. Perfect for exploring Batchewana Bay area.
The boat comes with mail sail and jib, cushions, two batteries, solar panel charger, paddles, bumpers, and anchor. Everything is in good condition.
Link to MacGregor 19 brochure: https://sbo.sailboatowners.com/images/kb/pdf/644.pdf
If you're a member of Algoma Sailing Club or a part of the sailing community looking to sell your sailboat, we provide a hassle-free platform to showcase your vessel. Benefit from our dedicated audience of sailing enthusiasts actively seeking their next boat. Contact Us  with your listing details and reach potential buyers quickly and efficiently.